Bitrix
24
SOCIAL
INTRANET
.
The social intra­net solu­ti­on in the form of Bitrix24 com­bi­nes the usu­al work tools for task and docu­ment manage­ment with the addi­tio­nal ser­vices of alrea­dy well-known and popu­lar social net­works. Work on tasks and pro­jects is car­ri­ed out in the con­text of direct com­mu­ni­ca­ti­on with col­leagues. With the free mobi­le app, you can use Bitrix24 both in your office and from any loca­ti­on on your mobi­le device (smart­pho­ne and tablet).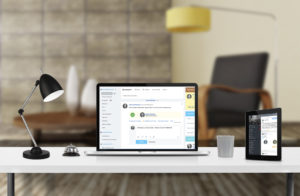 Fol­low all updates and chan­ges, such as new­ly crea­ted tasks in a work­group or new­ly publis­hed blog posts in your por­tal, in real time. The Bitrix24 Acti­vi­ty Stream effi­ci­ent­ly allows you to stay up-to-date, as both inter­nal and exter­nal data are dis­play­ed in one place.
With the chat tool, col­la­bo­ra­ti­ve work on a docu­ment or task can easi­ly be star­ted in just a few steps. Docu­ments and pic­tures can be quick­ly shared with each other.
If you are cur­r­ent­ly com­mu­ni­ca­ting with a sin­gle col­league, you can add addi­tio­nal par­ti­ci­pants whenever you need them — so there's not­hing stan­ding in the way of com­pre­hen­si­ve, trans­pa­rent communication.
Using pre­de­fi­ned work­flows such as busi­ness tra­vel, holi­days, absen­ces or purcha­se requests, employees can app­ly for holi­days or busi­ness trip and place orders direct­ly in the Acti­vi­ty Stream. All adjus­t­ments made to the work­flows will be con­ti­nuous­ly dis­play­ed in the Acti­vi­ty Stream.
When a mes­sa­ge reaches all col­leagues and employees, this infor­ma­ti­on or mes­sa­ge can be assi­gned the "Announ­ce­ment" status.
With the help of the Acti­vi­ty Stream, it will be sent to ever­yo­ne and will appe­ar in an eye-catching, yel­low win­dow at the top right of the screen and remain the­re until it has been read.
WE
ARE
HAPPY
TO
ADVISE
YOU
.
keyboard_arrow_leftPre­vious
Nextkeyboard_arrow_right