Bitrix
24

SOCIAL INTRANET

.
The social intranet solu­tion in the form of Bitrix24 com­bines the usu­al work tools for task and doc­u­ment man­age­ment with the addi­tion­al ser­vices of already well-known and pop­u­lar social net­works. Work on tasks and projects is car­ried out in the con­text of direct com­mu­ni­ca­tion with col­leagues. With the free mobile app, you can use Bitrix24 both in your office and from any loca­tion on your mobile device (smart­phone and tablet).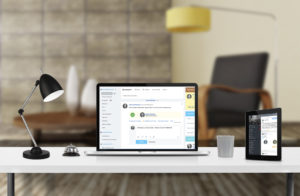 Fol­low all updates and changes, such as new­ly cre­at­ed tasks in a work­group or new­ly pub­lished blog posts in your por­tal, in real time. The Bitrix24 Activ­i­ty Stream effi­cient­ly allows you to stay up-to-date, as both inter­nal and exter­nal data are dis­played in one place.
With the chat tool, col­lab­o­ra­tive work on a doc­u­ment or task can eas­i­ly be start­ed in just a few steps. Doc­u­ments and pic­tures can be quick­ly shared with each oth­er.
If you are cur­rent­ly com­mu­ni­cat­ing with a sin­gle col­league, you can add addi­tion­al par­tic­i­pants when­ev­er you need them — so there's noth­ing stand­ing in the way of com­pre­hen­sive, trans­par­ent com­mu­ni­ca­tion.
Using pre­de­fined work­flows such as busi­ness trav­el, hol­i­days, absences or pur­chase requests, employ­ees can apply for hol­i­days or busi­ness trip and place orders direct­ly in the Activ­i­ty Stream. All adjust­ments made to the work­flows will be con­tin­u­ous­ly dis­played in the Activ­i­ty Stream.
When a mes­sage reach­es all col­leagues and employ­ees, this infor­ma­tion or mes­sage can be assigned the "Announce­ment" sta­tus.
With the help of the Activ­i­ty Stream, it will be sent to every­one and will appear in an eye-catch­ing, yel­low win­dow at the top right of the screen and remain there until it has been read.
WE ARE HAPPY TO ADVISE YOU
.
[fc id='15' align='center'][/fc]