Bitrix
24

REAL-TIME COMMUNICATION (CHAT / VIDEO)

.
Real-time com­mu­ni­ca­tion at its finest. Why not utilise the com­mu­ni­ca­tion chan­nels from your pri­vate life in the busi­ness world? Save time and mon­ey and com­mu­ni­cate with Bitrix24 in real time.
Whether it's instant mes­sag­ing, group chats, video calls or video con­fer­enc­ing — all the tools you need are already built into Bitrix24, so they are quick and easy to use. Dis­cov­er the many advan­tages of Bitrix24 real-time com­mu­ni­ca­tions.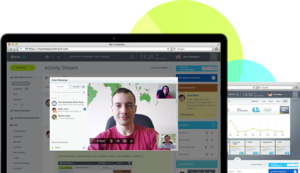 INSTANT MESSENGER AND GROUP CHAT
.
Receive sys­tem alerts and instant mes­sages with inte­grat­ed instant mes­sag­ing. Search for recent con­tacts and update your cur­rent sta­tus depend­ing on whether you are free or busy. The mes­sage exchanges are stored and indexed, mak­ing all con­tent avail­able with­in the search func­tion. If you would like to add addi­tion­al col­leagues to a chat, you can eas­i­ly invite them via Instant Mes­sen­ger and com­mu­ni­cate with them from any loca­tion.
Stay con­nect­ed, even on the go. You can access your Bitrix24 and col­lab­o­rate on projects wher­ev­er you are with your mobile devices such as iPhone or Android. The com­mu­ni­ca­tion in chats stays avail­able via the mobile app. Mes­sages and announce­ments are deliv­ered even when the app is closed.
Receive updates to your activ­i­ty stream, search for con­tact details, make appoint­ments or access cru­cial parts of the CRM using the Bitrix24 app on your mobile device (access the cus­tomer data­base, cre­ate and edit con­tacts, leads, com­pa­nies, orders or invoic­es and much more).
Share your screen eas­i­ly and quick­ly with your con­ver­sa­tion part­ner. Using the Bitrix24 Desk­top App for Video Con­fer­enc­ing, you have the option to share your screen direct­ly in the con­ver­sa­tion.
Make video con­fer­enc­ing quick and con­ve­nient, whether you're using your com­put­er, tablet or smart­phone. You can use the Bitrix24 Real Time Com­mu­ni­ca­tions when, where and how you need it.
Install the Bitrix24 Desk­top App so you can com­mu­ni­cate with your col­leagues, part­ners and cus­tomers even when your brows­er is closed. The Desk­top App also works as a mes­sen­ger. All impor­tant func­tions such as the con­tact direc­to­ry, his­to­ry and chat remain avail­able. The Bitrix24 Desk­top App also offers the pos­si­bil­i­ty to start audio and video con­fer­ences for groups of up to 4 par­tic­i­pants or to make calls direct­ly from Bitrix24.
WE ARE HAPPY TO ADVISE YOU
.
[fc id='15' align='center'][/fc]