The Bitrix24 mobi­le app works as a mobi­le intra­net, mobi­le CRM and mobi­le per­so­nal infor­ma­ti­on sys­tem. Once the Bitrix24 mobi­le app has been instal­led on a smart­pho­ne or tablet, it can be used regard­less of loca­ti­on and time.
The only requi­re­ment for use is an inter­net con­nec­tion. The mobi­le app is sup­por­ted by both iOS and Android devices. With the Bitrix24 mobi­le app, you use your Social Intra­net when, whe­re and from wha­te­ver device you want.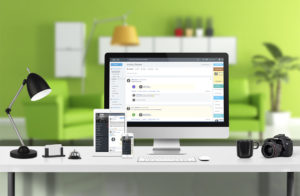 Employees who regu­lar­ly work out­side the com­pa­ny pre­mi­ses will espe­cial­ly appre­cia­te the Bitrix24 mobi­le app. Func­tions such as rea­ding or com­men­ting on messages in the Acti­vi­ty Stream and publi­shing your own new posts can all be done on the go with your smart­pho­ne or tablet.
Push noti­fi­ca­ti­ons alert the employee when he or she is nee­ded. If the inter­net con­nec­tion isn't too good, you can still work effec­tively as the mobi­le app can also be used in off­line mode.
MOBILE
TASKS
AND
DOCUMENTS
.
With this tool, col­la­bo­ra­ti­ve work on a docu­ment or task can start in just a few steps. Docu­ments and pic­tures can easi­ly be shared with one another.
If you are cur­r­ent­ly com­mu­ni­ca­ting with a sin­gle col­league, you can add addi­tio­nal par­ti­ci­pants whenever you need them — so there's not­hing stan­ding in the way of com­pre­hen­si­ve, trans­pa­rent communication.
REAL
TIME
COMMUNICATIONS
.
Com­mu­ni­ca­te with your col­leagues whe­re­ver you are. A push noti­fi­ca­ti­on will dis­play messages on your com­mu­ni­ca­ti­on partner's mobi­le device — even if the app is closed.
All rele­vant employee infor­ma­ti­on can be retrie­ved at any time by using the employee directory.
Using the app, the CRM can be con­ve­ni­en­t­ly acces­sed remo­te­ly. Depen­ding on the assi­gned role, the cus­to­mer data­ba­se or the pro­duct cata­lo­gue can also be acces­sed. Cur­rent CRM acti­vi­ties are also displayed.
A con­ta­ct, lead, order or invoice can be, for examp­le, crea­ted, edi­ted and sent direct­ly from an appoint­ment with the customer.
Using pre­de­fi­ned work­flows such as busi­ness tra­vel, holi­days, absen­ces or purcha­se requests, employees can app­ly for holi­days or busi­ness trip and place orders direct­ly in the Acti­vi­ty Stream. All adjus­t­ments made to the work­flows will be con­ti­nuous­ly dis­play­ed in the Acti­vi­ty Stream.
WE
ARE
HAPPY
TO
ADVISE
YOU
.
keyboard_arrow_leftPre­vious
Nextkeyboard_arrow_right