Bitrix
24

DOCUMENT MANAGEMENT

.
One-stop shop for organ­ised doc­u­ment man­age­ment.
Quick­ly and con­ve­nient­ly upload your files to Bitrix24 and share them with your col­leagues. Pre­sen­ta­tions, videos and oth­er doc­u­ments can be made avail­able to all or spe­cif­ic col­leagues so that they can be effi­cient­ly and joint­ly worked on.
All doc­u­ments are imme­di­ate­ly indexed and record­ed by the inter­nal search sys­tem which allows them to be found quick­ly. Work today in the dig­i­tal work­space of tomor­row. Bitrix24 doc­u­ment man­age­ment will undoubtably sim­pli­fy your dai­ly work.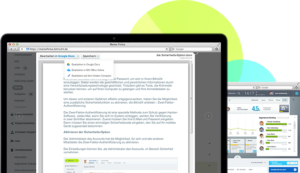 PERSONAL AND SHARED DOCUMENTS
.
In Bitrix24 (Bitrix24 Doc­u­ment Man­age­ment) there are three dif­fer­ent types of dri­ves. The first is a per­son­al file stor­age dri­ve which oth­er col­leagues can only access with appro­pri­ate autho­ri­sa­tion. The sec­ond is a group dri­ve where all doc­u­ments relat­ed to project groups are uploaded. The third is a gen­er­al dri­ve where files which are avail­able to all employ­ees are stored (for exam­ple, User Man­u­als).
Col­lab­o­ra­tive work on doc­u­ments takes place direct­ly in the Activ­i­ty Stream: com­ment, attach doc­u­ment ver­sions, give feed­back and make changes in real-time. It is also pos­si­ble to track who made changes to the doc­u­ment, what changes were made and when.
Doc­u­ments can be cre­at­ed in the form of texts, tables or pre­sen­ta­tions direct­ly in Bitrix24. These can be sent via the Activ­i­ty Stream, attached to tasks and edit­ed by sev­er­al users at the same time. The doc­u­ment can also be locked for oth­er users dur­ing edit­ing. After the con­tent has been finalised, doc­u­ments can be stored in the Doc­u­ment Library or down­loaded local­ly.
Due to the document's own Change Log, old doc­u­ment ver­sions are not lost and can be restored if nec­es­sary.
WE ARE HAPPY TO ADVISE YOU
.
[fc id='15' align='center'][/fc]