Bitrix
24
DOCUMENT
MANAGEMENT
.
One-stop shop for orga­nis­ed docu­ment management.
Quick­ly and con­ve­ni­en­t­ly upload your files to Bitrix24 and share them with your col­leagues. Pre­sen­ta­ti­ons, vide­os and other docu­ments can be made avail­ab­le to all or spe­ci­fic col­leagues so that they can be effi­ci­ent­ly and joint­ly worked on.
All docu­ments are immedia­te­ly inde­xed and recor­ded by the inter­nal search sys­tem which allows them to be found quick­ly. Work today in the digi­tal works­pace of tomor­row. Bitrix24 docu­ment manage­ment will undoub­ta­b­ly sim­pli­fy your dai­ly work.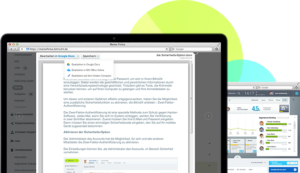 PERSONAL
AND
SHARED
DOCUMENTS
.
In Bitrix24 (Bitrix24 Docu­ment Manage­ment) the­re are three dif­fe­rent types of dri­ves. The first is a per­so­nal file sto­rage dri­ve which other col­leagues can only access with appro­pria­te aut­ho­ri­sa­ti­on. The second is a group dri­ve whe­re all docu­ments rela­ted to pro­ject groups are uploa­ded. The third is a gene­ral dri­ve whe­re files which are avail­ab­le to all employees are stored (for examp­le, User Manuals).
Col­la­bo­ra­ti­ve work on docu­ments takes place direct­ly in the Acti­vi­ty Stream: com­ment, attach docu­ment ver­si­ons, give feed­back and make chan­ges in real-time. It is also pos­si­ble to track who made chan­ges to the docu­ment, what chan­ges were made and when.
Docu­ments can be crea­ted in the form of texts, tables or pre­sen­ta­ti­ons direct­ly in Bitrix24. The­se can be sent via the Acti­vi­ty Stream, atta­ched to tasks and edi­ted by several users at the same time. The docu­ment can also be locked for other users during edi­t­ing. After the con­tent has been fina­li­sed, docu­ments can be stored in the Docu­ment Libra­ry or down­loa­ded locally.
Due to the document's own Chan­ge Log, old docu­ment ver­si­ons are not lost and can be res­to­red if necessary.
WE
ARE
HAPPY
TO
ADVISE
YOU
.
keyboard_arrow_leftPre­vious
Nextkeyboard_arrow_right