With the CRM solu­ti­on (Cus­to­mer Rela­ti­ons­hip Manage­ment solu­ti­on) from Bitrix24, a com­ple­te data­ba­se of your cus­to­mers and con­ta­cts can be crea­ted. A big advan­ta­ge of the CRM is that you have all the spe­ci­fic cus­to­mer com­mu­ni­ca­ti­on and histo­ry at your disposal.
A detail­ed log of all infor­ma­ti­on, such as calls, messages and appoint­ments, faci­li­ta­tes the plan­ning of fur­ther steps and important tasks.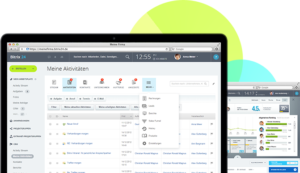 Mana­ge cus­to­mer rela­ti­ons­hips effi­ci­ent­ly and trans­par­ent­ly through an intui­ti­ve inter­face. The Bitrix24 CRM offers several tools to mana­ge con­ta­cts, orders and leads. All the infor­ma­ti­on can eit­her be ent­e­red manu­al­ly, impor­ted from dif­fe­rent data sources or auto­ma­ti­cal­ly collec­ted from your web­site. Crea­te dedi­ca­ted con­ta­ct groups based on the avail­ab­le data and use appro­pria­te mar­ke­ting tools to address them. Send emails to your con­ta­cts or con­ta­ct groups direct­ly from the Bitirx24 CRM.
The Sales Fun­nel pro­vi­des a quick over­view of the cur­rent sta­tus of your acti­vi­ties. See at a glance how many leads have beco­me orders or sales and which pha­se they are cur­r­ent­ly in. It is also pos­si­ble to crea­te several sales pipe­lines simul­ta­ne­ous­ly in Bitrix24 CRM and to gene­ra­te cor­re­spon­ding sales funnels.
A selec­tion of rea­dy-made repor­ting tem­pla­tes makes it pos­si­ble to gene­ra­te reports on, for examp­le, sales figu­res and orders accord­ing to the employee responsible.
Crea­te every type of web form in Bitrix24, use them on your web­site or make them avail­ab­le as a public web­page link. The goal of the CRM web forms is to crea­te new leads, new con­ta­cts and addi­tio­nal infor­ma­ti­on about cus­to­mers. All data pro­vi­ded is stored in the CRM sys­tem which means that they only need to be pro­ces­sed once received.
Open Chan­nels con­nect the most com­mon social net­works and mes­sen­gers to the CRM in Bitrix24. For examp­le, messages from Face­book, Sky­pe and other plat­forms can be recei­ved and ans­we­red direct­ly in Bitrix24. By defi­ning a work­flow, you can spe­ci­fy how requests are dis­tri­bu­t­ed and when a request should be auto­ma­ti­cal­ly for­war­ded to the next avail­ab­le employee. Open Chan­nels can be used in all Bitrix24 ver­si­ons (mobi­le app, desk­top app and web).
The Bitrix24 CRM can com­mu­ni­ca­te with your web­site quick­ly and easi­ly by simp­le imple­men­ta­ti­on. Fea­tures such as online chat, a call back wid­get or web­site forms can be crea­ted and used with a simp­le embed code so that leads are direct­ly, easi­ly, and quick­ly cap­tu­red and stored in the Bitrix24 CRM.
WE
ARE
HAPPY
TO
ADVISE
YOU
.
keyboard_arrow_leftPre­vious
Nextkeyboard_arrow_right