With the CRM solu­tion (Cus­tomer Rela­tion­ship Man­age­ment solu­tion) from Bitrix24, a com­plete data­base of your cus­tomers and con­tacts can be cre­at­ed. A big advan­tage of the CRM is that you have all the spe­cif­ic cus­tomer com­mu­ni­ca­tion and his­to­ry at your dis­pos­al.
A detailed log of all infor­ma­tion, such as calls, mes­sages and appoint­ments, facil­i­tates the plan­ning of fur­ther steps and impor­tant tasks.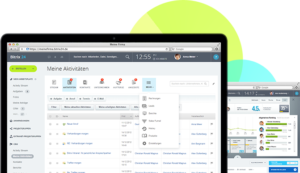 Man­age cus­tomer rela­tion­ships effi­cient­ly and trans­par­ent­ly through an intu­itive inter­face. The Bitrix24 CRM offers sev­er­al tools to man­age con­tacts, orders and leads. All the infor­ma­tion can either be entered man­u­al­ly, import­ed from dif­fer­ent data sources or auto­mat­i­cal­ly col­lect­ed from your web­site. Cre­ate ded­i­cat­ed con­tact groups based on the avail­able data and use appro­pri­ate mar­ket­ing tools to address them. Send emails to your con­tacts or con­tact groups direct­ly from the Bitirx24 CRM.
The Sales Fun­nel pro­vides a quick overview of the cur­rent sta­tus of your activ­i­ties. See at a glance how many leads have become orders or sales and which phase they are cur­rent­ly in. It is also pos­si­ble to cre­ate sev­er­al sales pipelines simul­ta­ne­ous­ly in Bitrix24 CRM and to gen­er­ate cor­re­spond­ing sales fun­nels.
A selec­tion of ready-made report­ing tem­plates makes it pos­si­ble to gen­er­ate reports on, for exam­ple, sales fig­ures and orders accord­ing to the employ­ee respon­si­ble.
Cre­ate every type of web form in Bitrix24, use them on your web­site or make them avail­able as a pub­lic web­page link. The goal of the CRM web forms is to cre­ate new leads, new con­tacts and addi­tion­al infor­ma­tion about cus­tomers. All data pro­vid­ed is stored in the CRM sys­tem which means that they only need to be processed once received.
Open Chan­nels con­nect the most com­mon social net­works and mes­sen­gers to the CRM in Bitrix24. For exam­ple, mes­sages from Face­book, Skype and oth­er plat­forms can be received and answered direct­ly in Bitrix24. By defin­ing a work­flow, you can spec­i­fy how requests are dis­trib­uted and when a request should be auto­mat­i­cal­ly for­ward­ed to the next avail­able employ­ee. Open Chan­nels can be used in all Bitrix24 ver­sions (mobile app, desk­top app and web).
The Bitrix24 CRM can com­mu­ni­cate with your web­site quick­ly and eas­i­ly by sim­ple imple­men­ta­tion. Fea­tures such as online chat, a call back wid­get or web­site forms can be cre­at­ed and used with a sim­ple embed code so that leads are direct­ly, eas­i­ly, and quick­ly cap­tured and stored in the Bitrix24 CRM.
WE ARE HAPPY TO ADVISE YOU
.
[fc id='15' align='center'][/fc]